Share the post "Meatloaf in Electric Skillet"
Electric Skillet Meatloaf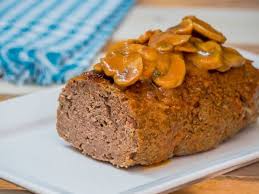 Do you want to make a meatloaf in an electric skillet? Well, who doesn't like a good meatloaf? Nothing sounds more American than a traditional meatloaf with potatoes on the side. The advantage of meatloaf is that there are many variations and, although the general concept is the same, everyone prefers to add something to make it their own.
This special recipe is for the electric skillet meatloaf! If the concept of cooking the meatloaf in an electric frying pan is new to you, then you've come to the right spot!
Using the electric skillet not only reduces the extra heat in your kitchen, but also allows you to cook the vegetables next to the meatloaf for improved flavor.
In this special recipe, button mushrooms are added around the meatloaf and covered with a ketchup mixture.
It may seem a daunting task at first to cook meatloaf in an electric skillet instead of an oven, but you'll probably be hooked once you start doing it!
Using an electric skillet may help you to keep your house cool during the hot summer months, save electricity by heating a much smaller gadget and free up your oven for other dishes if necessary.
Plus, the electric skillet keeps the meatloaf warm while it's being served. In the end, preparing meatloaf doesn't differ much from a typical recipe, but there are other benefits you can enjoy.
So, do you want to cook the meatloaf in the electric skillet? What other ground beef recipes have you tried in your electric skillet? We'd love to hear about your experiences.
Meatloaf in an electric skillet
The advantage of meatloaf is that there are a whole lot of variations and although the general concept is the same, everyone chooses to make some additions to make it different and give a personal touch to it. This special recipe is for an electric skillet meatloaf.
PREPARATION TIME: Fifteen minutes.
COOKING TIME: One hour
TOTAL TIME REQUIRED: 1 hour and 15 minutes.
COURSE: Main dish
CUISINE: American
SERVICES: For 8 persons
CALORIES: 259 kcal
Ingredients
1 ½ pounds of lean ground meat1 ½ pounds of lean ground meat
1 egg
1 tablespoon of Worcestershire sauce
1 onion, chopped
1 cup of milk
1 cup of dry and spicy Italian bread crumbs
½ teaspoon garlic powder
1 ½ teaspoon salt
1 teaspoon of pepper
⅓ Ketchup cup
2 tablespoons of mustard
2 tablespoons of brown sugar
1 tablespoon of margarine
1 pound of sliced mushrooms
INSTRUCTIONS
In a bowl, mix the ground meat with the egg, Worcestershire, onion, milk, breadcrumbs, garlic powder, salt and pepper.
In a small bowl, mix the ketchup, mustard and brown sugar.
Set the temperature of the electric skillet to 250°F. Melt the margarine in the pan.
Form a meatloaf and place it in the skillet. Surround the meatloaf with the sliced mushrooms. Pour the ketchup mixture over the meatloaf and mushrooms.
Cover and cook for 1 hour or until the meat is cooked to your liking.
How to prepare electric skillet meatloaf and vegetables
Prepare your favorite meatloaf mixture or take 2 pounds of lean ground beef, about 1/4 cup of ketchup or barbecue sauce (according to your taste), 1 egg, about 1/4 to 1/2 cup of bread crumbs, 1 sm. of chopped onion, 1/2 cup of chopped green pepper and 1-2 cloves of garlic. You can season to taste with garlic powder, salt, pepper and rosemary. To make it taste stronger and hotter, you can add 1/4 teaspoon of red pepper. Stir to combine. Give it a round shape. I only use the mixing bowl to do that.
Now it is time to prepare the potatoes, carrots and onions. You should melt the butter in a large electric skillet at 250 degrees. When it is hot, put the meatloaf in the middle of the skillet. Surround it with vegetables. You can season the vegetables generously with salt, pepper and garlic powder.
Put the lid on the skillet. Then go. Let the meatloaf cook for about 50 minutes or until it is cooked to the desired state.
Wrapping up
This also works well with a bowl of sliced green beans. Hope this recipe for meatloaf in electric skillet will help you make your own delicacies for your own family and guests. Go cooking!